Query INSERT INTO `user_session_data_storage` SET `last_activity` = NOW(), `session_id` = ? : 
Statement could not be executed (23000 - 1062 - Duplicate entry 'NULL' for key 'user_sid')

Open House Event 2016
An excellent opportunity to learn more about the real working environment and daily operation of digital advertising companies! The participating advertising companies of Open House events will share the latest trend of the industry, brief on their work, and provide a guided tour of their different departments.
Final Year Students, Fresh Graduates and Students are welcome to join the event.
Registration Link:
https://docs.google.com/forms/d/e/1FAIpQLSeNzPzTJSE7Z0wbZb0KF5mG1p9GpaI2QqZ0DL5MrFlDcs1nrA/viewform
No admission fee is required.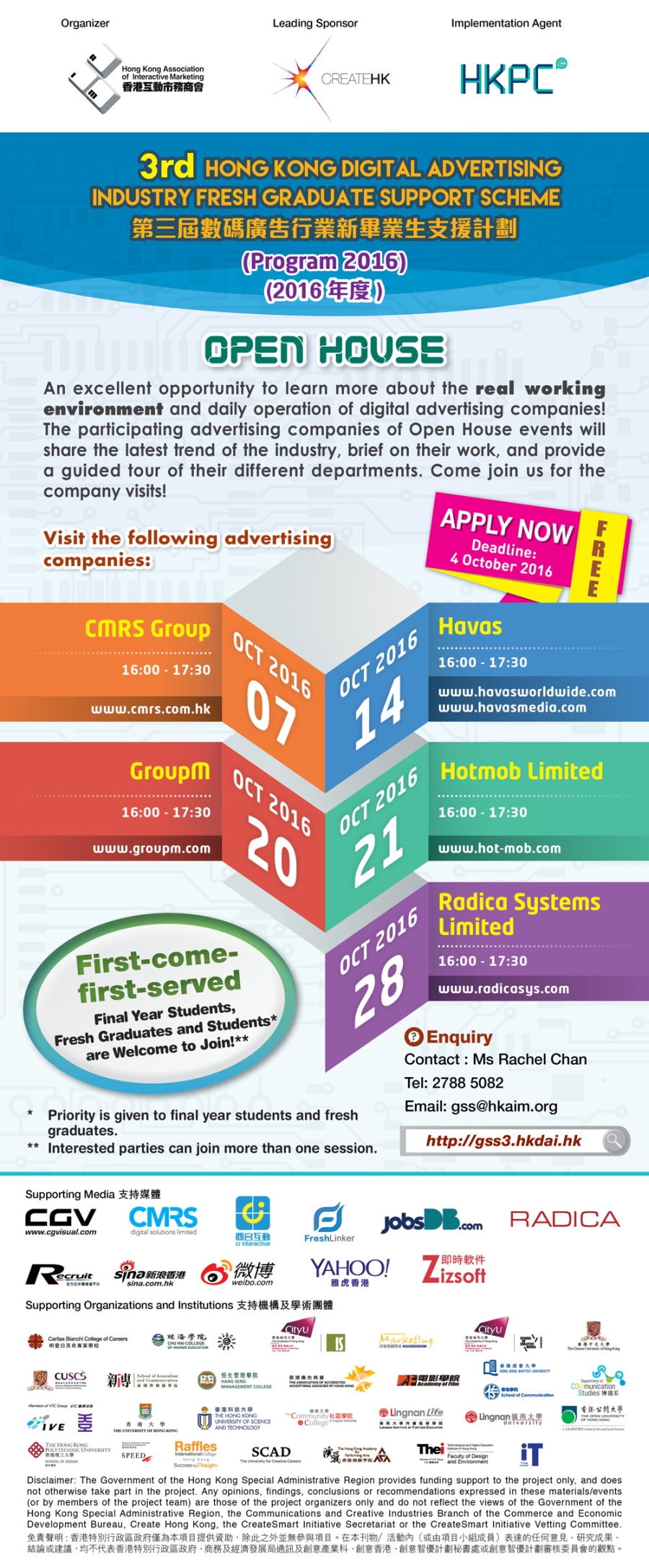 View All News

Query SELECT `sid`, `count`, `user_sid` FROM `statistics` WHERE 1  AND `ip` = '18.206.48.243'  AND `type` = ''  AND `event` = 'siteView'  AND YEAR(CURDATE()) = YEAR(`date`) AND DAYOFYEAR(CURDATE()) = DAYOFYEAR(`date`)  AND `object_sid` = '0'  AND `price` = '0'   LIMIT 1 : 
Statement could not be executed (HY000 - 144 - Table './hkdai_gss3/statistics' is marked as crashed and last (automatic?) repair failed)

Query INSERT INTO `statistics` (`user_sid`, `ip`, `event`, `object_sid`, `type`, `date`, `featured`, `priority`, `reactivate`, `price`, `plugin`) VALUES (0, ?, ?, 0, ?, NOW(), 0, 0, 0, ?, ?) : 
Statement could not be executed (HY000 - 144 - Table './hkdai_gss3/statistics' is marked as crashed and last (automatic?) repair failed)